[tabgroup] [tab title="Yves et Marc"]
In 2004, Yves Marre and Marc Van Peteghem met while discussing the ambulance-boats building project in Bangladesh. These two different men with two different background and lives decided to share skills and know-how to serve and assist people in need, using boat as a tool for action.
In order to carry on and go forward the work they achieved, they created the NGO Watever, a portmanteau of the words "water" and "ever". The purpose of Watever is to assists populations in need living on the shores of oceans or major rivers. Watever enable access to innovative and long term floating solutions, and locally adapted/ to the economic, social and climatic situations.
Yves Marre
---
Yves Marre sailed from France to Bangladesh in 1994, with the large River Barge with the will to transform it into the floating hospital in the country. Then, with his wife Run, he created the NGO Friendship, aimed to act for health and emergency aid.
He is currently managing TaraTari Shipyard, based in Chittagong. His long experiences in Bangladesh convinced him of the importance of surrounding himself with experts when designing Floating Solutions. This led him to meet Marc Van Peteghem.
In 2012, Yves Marre was rewarded for his actions in Bangladesh for the last 20 years: he received the "Prix du Rayonnement français humanitaire" (a French award for his committed in humanitarian actions abroad).
Marc Van Peteghem
---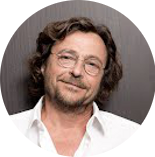 With his partner Vincent Lauriot-Prévost, Marc Van Petegem is a world-recognized naval architect (VPLP). Famous as well for his luxury custom sailing yachts, his series production sailing catamarans (lagoon), or his multihull racing yachts, his numerous victories and world records speak for him.
His humanistic nature and his will to provide his skills to great projects led him to respond positively to Yves Marre's call. His technical knowledge happens to be very valuable to design and build long life boats that are adapted to people in need.
[/tab] [tab title="Story"]
[/tab]
[/tabgroup]